Available
We are happy to show off our newest litter!!
At this time, all three of the kittens above are reserved. The proud parents are
Minghou The Joker (Joker) (Outstanding Sire), Black and White Oriental Shorthair and
AutumSun Amaretto N Chocolate (Ami), a chocolate lynx point Balinese.
We are expecting a Siamese litter at the end of September.
Please meet "Choco":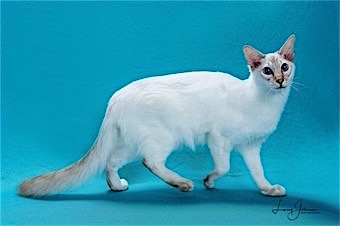 Choco's official name is IW SGCA AutumSun Chocolate Stout. He is a chocolate lynx point Balinese....very lovable. This young neuter born 3/23/2020, will be shown until placed in his forever home.
QGC Sacchidananda BluSafire of AutumSun
Blue Lynx Point Balinese
TGC Balimoor TN Honey of AutumSun
Blue Spotted Tabby Oriental Longhair
If you are interested in our cats / kittens, please complete the Contact Form on this website. The form is used not only to indicate interest in a specific available cat / kitten but also to be added to our waiting list.
Thank you for your interest in our cats and kittens!